DIY: How Much Does it Cost to Stain Concrete Floors Yourself?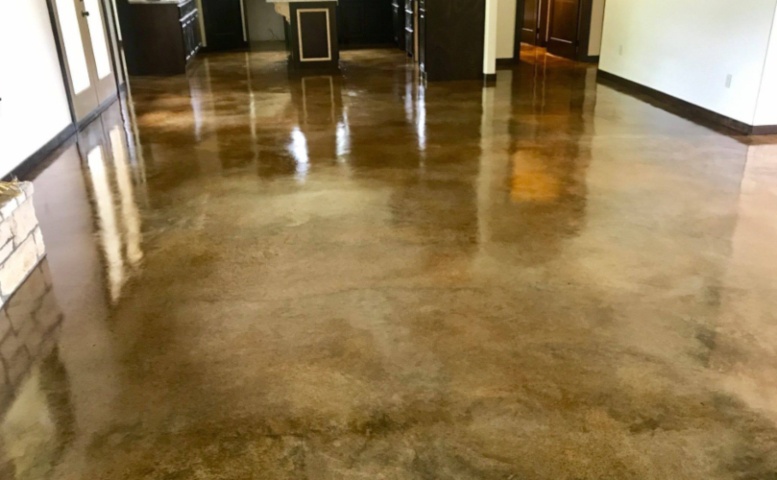 Did you know you can create beautifully stained concrete flooring for less than 50 cents per square foot? In fact, stained concrete floors cost less than most traditional flooring types and come with numerous bonus benefits. For example, concrete stained floors are eco-friendly, hypoallergenic, and extremely durable.
Cost To Stain And Seal Concrete Floor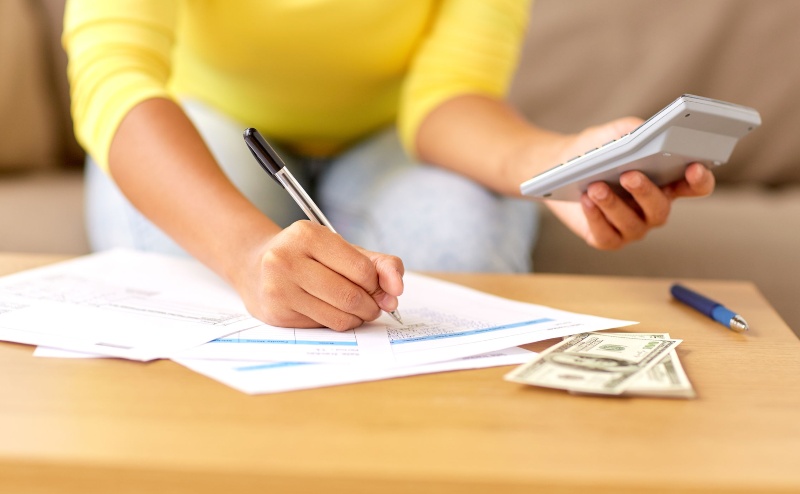 The aforementioned "50 cents or less" estimate for staining concrete floors not only encompasses the cost of the concrete stain, but also the costs of sealer and wax as well.

Concrete stain by itself can range from around $0.20 and up per square foot. However, it is important to note that when it comes to concrete stains, quality matters. So you want to ensure you are getting a product that is manufactured to exacting standards, such as our Artist Grade stain, which is designed to be simply the best acid stain money can manufacture.

And, although some stain companies may state that sealing is not required, we here at Concrete Camouflage recommend using concrete sealer to protect your stained floors. Sealer costs around $0.16 and up per square foot and serves as a strong barrier against water, salts and other contaminants that can affect your concrete stain. Concrete floors require resealing within a range from 1-5 years, depending on how much foot traffic they receive and the type of weather they endure--- but applying and maintaining a sacrificial wax layer to cover the sealed concrete will extend the life of your sealer, perhaps indefinitely.

Floor wax needs to be reapplied once it dulls or scuffs. Thankfully, high quality mop on floor waxes (which we recommend) are inexpensive yet can still last quite a while, up to several months, with a price ranging from $0.02 and up.
Different Types of Concrete Coloring
If you're new to the world of concrete staining, you might be wondering about the difference in cost between acid stains and other options such as concrete paints, epoxies, dyes, etc.

Epoxy can range from $2 to $5 per square foot; while concrete paint typically ranges from $1.45 to $3. Although these aren't expensive, and are more traditional ways to color concrete, they are prone to chipping and flaking. So, not only do you need to factor in the cost of repoxying or repainting your floors, you also need to consider the time and effort put into redoing your floors on a semi-regular basis. By comparison, as long as you continue with sealing or waxing maintenance in your high traffic areas, you will not need to redo your concrete stain. If you're remodeling or designing a basement with moisture issues, an acid stained concrete basement floor can save a lot of headaches.

Some companies try to pass off acrylics and "dyes" as equivalent to the quality of stains, sometimes even going so far as to call them concrete stains. However, these products will fade, flake and chip frequently. Concrete acid stains are the only products designed to make a long-lasting, permanent color change to your concrete, with much lower maintenance costs.
Additional Things to Factor Into the Cost of Stained Concrete Flooring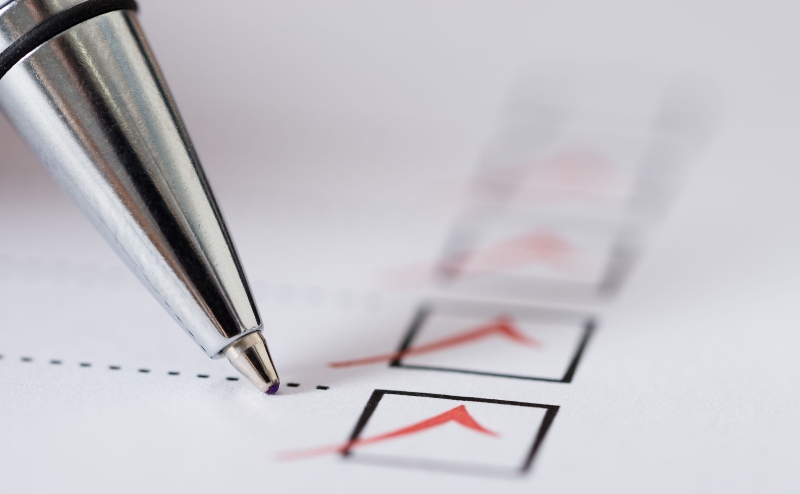 While the cost of the materials for a concrete stain is low, you should factor in the cost of preparing and cleaning the concrete as well. This is determined by the look you are hoping to achieve with the concrete and the current state of the concrete itself. Some older concrete might require some sanding, grinding and/or rigorous cleaning to remove residues from previous flooring or contaminants that have gathered over time.

(If you're looking for a breakdown of all the tools and supplies, check this out: Concrete Stain Supply Checklist)
Cost for Cleaning Concrete Floors
The cost for cleaning will vary depending on the condition of the concrete. If the concrete is in good shape you may only need to use a concrete degreaser and follow it up with TSP. Wax remover should also be used if wax is present. The concrete degreaser and wax remover costs circle in at around $0.02 and up per square foot, while TSP costs less than $0.01 per square foot. However, if concrete is a bit more gummed up with lots of adhesives and possibly a curing agent or existing sealer, you may need to sand or grind the concrete as well.
Cost to Grind Concrete Floor
Grinding or sanding concrete is often the best way to handle concrete covered with a high level of contaminants like adhesives and curing agents. Grinding and sanding also open up the pores of the concrete which allows the stain to react more easily. That being said, grinding and sanding do tend to remove the natural smooth marble look of concrete. These processes can also cause the concrete to drink up more stain and sealer, so be sure and get a bit extra product. A contractor may charge anywhere from $1 to 4 per square foot to grind or sand concrete. However, if you choose to do it yourself, renting the grinder and the pads will run you around $0.30 to $0.40 per square foot. Also, it is important to note that the same machine can be used to achieve the stunning polished concrete look that many people liken to marble.
Polished Concrete Floors Cost
Contractors typically charge between $2 to 6 per square foot to polish concrete. The price of DIY polishing concrete, on the other hand, is in the same ballpark as the cost of grinding concrete -- $0.30 to $0.50 per square foot -- as you can use the same machine. However, the addition of these certain buffing/polishing pads may cause a small up-charge when renting your grinding equipment which depends on the rental company.
Advanced Concrete Decor Techniques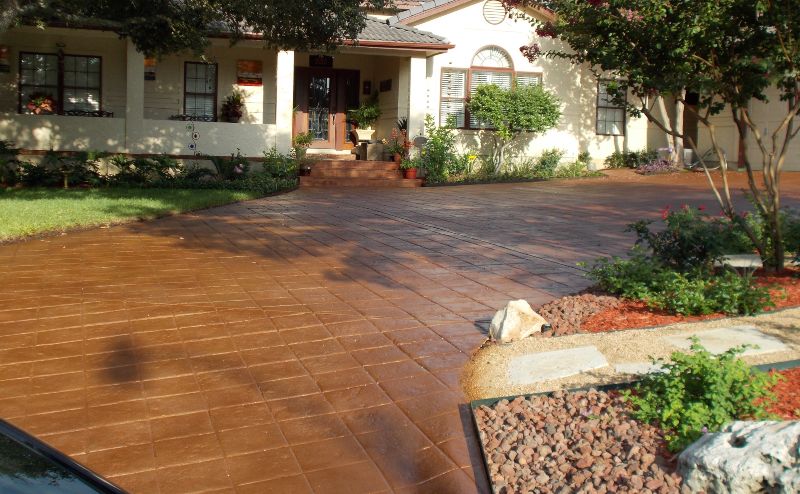 If you are trying to achieve different looks with your concrete such as borders or patterns, something as simple as design tape, can help you create an interesting and professional looking design. Additionally concrete scoring can be done with simple supplies like a skill saw and chalk and looks extremely realistic.

(If you're interested in these more advanced decorative techniques, be sure to check out our audio guides: Advanced Concrete Staining Technique Guides )
Concrete floor staining is an inexpensive and rewarding process. You can achieve beautiful and unique stains using techniques that require little expertise, without breaking the bank. Also, the industrial look is becoming very trendy in modern design and design elements such as exposed beams and concrete floors are very commonly used in this type of decor. The recent decade of design trends point towards one thing: Minimalism ---and it is here to stay for some time. If your home is built or redone around the minimalist industrial elements of an exposed concrete floor it could lend to the long term value for future home sales.

Now that you know how much it costs to stain concrete floors, be sure to check out our comprehensive Concrete Staining Guides before starting your next project.