Learn How to Stain Concrete Floors, Countertops, Exterior and more.
The Official Guide to Concrete Staining
Using the Concrete Camouflage Collection of Products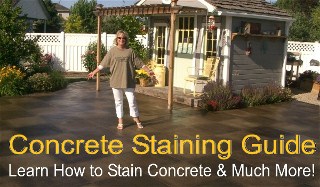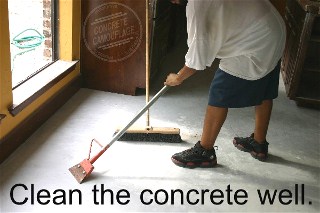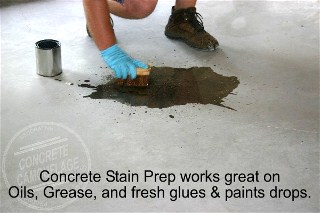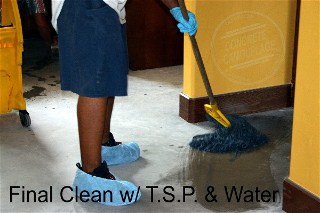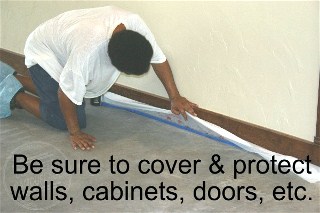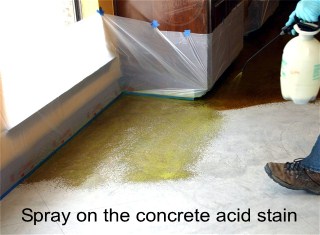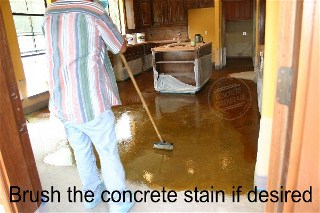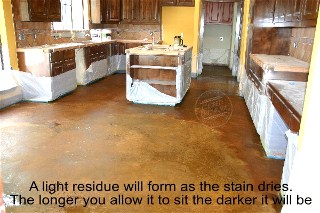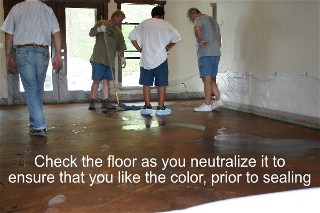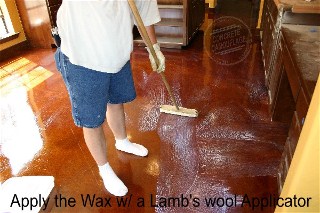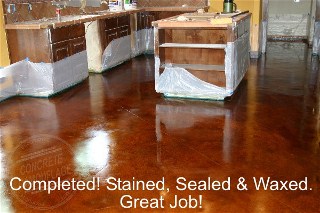 Having been used on Commercial Projects and Homes, both Interior and Exterior, by Contractors for many years, there's a good reason. You'll discover that Concrete Staining, Sealing and Waxing is Easy and Simple for most Do It Yourself Projects as well. Along with being "Green" this time tested product is very Cost Effective and one of the Lowest Maintenance Surfaces available today.
---
Below You Will Learn Much About Concrete Stain.

Including Written Instructions and Free Videos on

How to Stain Concrete,

Seal Decorative Concrete,

Wax Concrete Floors,

Figure Material, Schedule, & Much More.

Including many useful Tips of The Trade.
---
When staining concrete with an acid stain, a chemical reaction within the concrete's surface takes place during the drying stage, thereby permanently changing the surface of the concrete to its new unique color.
Concrete acid stain is not a topical coating like a concrete paint or acrylic, water base, and semi-transparent stains. Because of the nature of the product, concrete acid stain will not peel, chip or fade. Acid stain is to concrete much as wood stain is to wood. It is permanent and easier to use than the alternatives, such as bio friendly, soy and dyes. It is designed to give a much more natural look of marble, stone, and leather with highs and lows, dark and lights and mottling effects.
Note:
Concrete should be at least 28 days old, or have cured to one uniform color, whichever comes first - before being acid stained.
Below are the links to the pages that will help guide you along your concrete staining journey. Helping you to simply and easily create magnificent beauty that will last and costs much less than traditional flooring and decorative surfaces.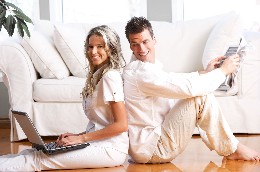 ---
Instructions

with Many Tips and Techniques:

Please Read All Steps and/or watch the free videos Pertaining to the Products You Will Be Using, and are Relevant to Your particular Project.
Concrete Staining Blog

Includes Advice, Troubleshooting Help, and tips from the Ask a Pro Series. With a link to the blog archives where you can enter your search word/term into the search bar to bring up posts with quite a bit of helpful advice, tips and tricks of the trade.
---
---
CLICK HERE To Visit the PDF files, for Material Safety Data Sheets, Architect Specs, Product Information Sheets, Simple Instructions, Selection Guides, Color Charts and more.
As always, you can have your particular questions answered via email through our
Ask a Pro Series
, going to our Contact Us page or by giving us a call at 800 650 1157 - Mon - Fri 9am to 4pm cst.
We're here to help you all we can with your project, as you learn how to stain concrete, seal concrete and wax concrete floors, when using the Concrete Camouflage collection of Artist Grade Products.
---