Learn How to Stain Concrete Floors, Countertops, Exterior and more.
The Official Guide to Staining Concrete
Using the Concrete Camouflage Collection of Products
Concrete Staining has been used on Commercial Projects and High End Homes, both Interior and Exterior, by Contractors for many years, and for many good reasons. You're about to discover that Staining, Sealing and Waxing Concrete is Easy and Simple for most Do It Yourself Projects. Additionally, this time tested product is very Cost Effective and one of the Lowest Maintenance Surfaces available today.
When staining concrete with an acid stain, a chemical reaction within the concrete's surface takes place during the drying stage, thereby permanently changing the surface of the concrete to its new unique color.
We'll start with Step by Step instructions, tips, pictures and videos.
Then we'll move on to other useful information further down the page.
- First though, if you're new to acid staining, Start Here -
---
---
Note:
Concrete should be at least 28 days old, or have cured to one uniform color, whichever comes first - before being acid stained.
Other Useful Information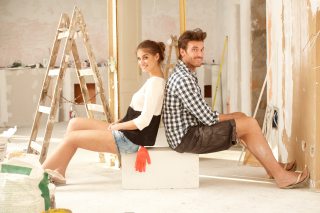 Concrete Staining Blog
Includes Advice, Troubleshooting Help, Tips and Tricks of the Trade. From the Ask a Pro Series. With a link to the Searchable Blog Archives.
---
As always, you can have your particular questions answered via our
Ask a Pro Series
, going to our Contact Us page or by giving us a call at 800 650 1157 - Mon - Fri 9am to 4pm cst.