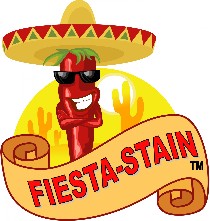 $10.00 Flat Rate Shipping On All Orders
(FedEx Delivery / Lower 48 U.S. States Only)
---
Economy Grade Concrete Acid Stain
Covers up to 200 sq.ft per Gallon at recommended 2 coats
Easier - Greener
(See Fiesta Stain Colors Below)
The preferred, and time tested method of concrete staining, is by using Concrete Acid Stain.
It soaks into the surface and pores of the concrete, and through a chemical reaction, it changes the surface color of the concrete. Acid staining concrete results in a stone or marble like appearance naturally.
Acid stain has been around for many years and when maintained properly, has proven to be the most effective and permanent method for staining concrete.
As the stain dries, the concrete surface is chemically and permanently changed to the new color. The concrete surface remains the same except for the color change. Acid stain would be more likened to concrete, as wood stain is to wood.
Going green never looked so good.
---










---
Sunrise is usually a Golden Amber combination.
Maya Stone is usually a Brown Amber, or Cola.
Cayenne is usually more of a Weathered or Distressed Lighter Terracotta.
Tahiti Brown is usually a medium to dark Chocolate Brown.
Walnut is usually a medium to Dark Walnut with Blacks and Dark Browns.
Twilight is usually pretty Black, though it can be more of a darker Walnut with Dark Browns and Blacks.
Yucatan Blue is pretty much a Blue Turquoise.
Sage is usually Light Greens with hints of Light Browns.
Hot Tamale is usually a Red Terracotta or Mahogany.
Aged Copper

is more of a

Green

with

Bronze

highlights.