Artist Grade
$10.00 Flat Rate Shipping On All Orders
(FedEx Delivery / Lower 48 U.S. States Only)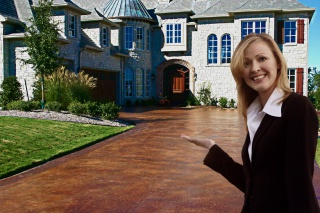 One Coat

Acid Concrete Stain - Available in

23 Colors
No mixing required
Covers up to 400 sq.ft per gallon - straight
Can be diluted with water for a lighter version of the color and to achieve more coverage
For use with Interior and Exterior Concrete that has cured at least 28 days, as well as concrete countertops and many masonry, cement and statuary products.
Concrete Camouflage brand of products are made with only high grade materials and are classified Professional / Artist Grade
Concrete Acid Stain Beautifies Concrete
Achieved through a natural chemical reaction within the concrete's surface, Acid Stain changes the surface to the new color. This new color will be unique to your particular slab and will be permanent and will not peel, chip or fade. Acid Stain is to concrete much as wood stain is to wood. Reacting with the minerals already present in the concrete and that were randomly dispersed when it was poured and finished, highs, lows, dark and lights, mottling and marbling is a natural effect of the process. It is not a topical coating like a concrete paint or acrylic, water base, and semi-transparent stains that will peel eventually. It is also in all actuality, easier to use and safer than the alternatives, such as bio friendly, soy and dyes.
Concrete Stain Colors and Styles
Resembling Marble, Leather, or Stone. Staining Concrete is simply one of the Most Cost Effective Surface Solutions today for Concrete Floors, Concrete Countertops and Exterior Concrete such as Driveways, Patios, Pool Decks, Walks, Walls, Cinder Block, Statuary and more. Whether used with or without the companion products, such as the premium sealer and high traffic mop on floor wax, it is not only a simple to use green product, but is also one of the lowest maintenance surfaces available.
Less Expensive than Traditional Flooring and Decorative Surfaces, with DIY Project Kits selling for about or less than 50 cents per Square Foot - Delivered.
Enhance The Outdoors With An Exterior Concrete Stain
~ EXTERIOR / Compliment Your Surroundings and add curb appeal along with increased property value at a substantial savings compared to other decorative surfaces. If you decide to seal the concrete for added beauty and protection, You'll want to check out Clear Shield Premium - Decorative Concrete Sealer designed especially for Enhancing the colors while delivering a natural looking Satin finish.
Revamp Traditional Flooring With Interior Stained Concrete
~ INTERIOR / Stained Concrete Floors are Unique, beautiful, much less expensive than traditional flooring, and very allergy friendly. All with a high end look simply by enhancing the colors, beauty, depth and luster by sealing and waxing your floors. With Clear Shield - Decorative Concrete Sealers and Top Shield - High Traffic Mop On style Floor Wax, You will enjoy easy application, and added traction, with high scuff resistance that lasts and lasts and lasts... Top Shield is now available in both Gloss and Matte finishes.
Learn How To Stain Concrete
Concrete staining has been used to add a unique edge to commercial and residential projects for a long time. Discover how easy and simple it is to transform your concrete floors using our

Official Concrete Staining Guide

.