Decorative Concrete Sealer
$10.00 Flat Rate Shipping On All Orders
(FedEx Delivery / Lower 48 U.S. States Only)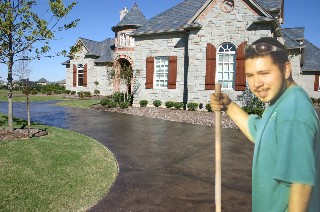 Clear Shield Concrete Sealers

are Designed Specifically for Sealing Decorative Concrete

.

Bringing out

colors

, while still

protecting

and

enhancing

your

concrete floors

and exterior

surfaces

.
Easier - Greener
Clear Shield Premium

and

Advanced

Formula Water Based - Concrete Sealers, are made with

High Grade Acrylics

and are classified

Professional / Artist Grade Outdoor/Indoor Concrete Sealers.
Decorative Concrete Sealer
Approx. Clear Shield Coverage @ 2 Coats:
Premium - 400 Sq.Ft. per Gallon
Advanced - 300 Sq.Ft. per Gallon
What is Concrete Sealer?
Concrete sealer is a topical coating used to protect and preserve concrete. An essential part of keeping up the appearance of a stain, it forms a protective barrier between the surface of the concrete and any potential contaminants, traffic, and water.
Information About Decorative Concrete Sealers
Concrete Camouflage's decorative concrete sealer is a non yellowing clear concrete sealer available in two varieties: premium and advanced. Both the premium and advanced Clear Shield concrete sealers are suitable for interior concrete sealing or sealing concrete on the exterior of your home or business. Both varieties are a water based sealer. Either sealer is still among the best clear concrete sealers on the market. At Concrete Camouflage, we know how to seal concrete: we have done the work and put in the time as one of the pioneers in the decorative concrete world.
Our concrete surface sealer is meant to be applied after the concrete staining process has been completed. Of course, Clear Shield concrete sealers are suitable for non-stained floors as well, but they were designed as decorative concrete sealers to bring out the beautiful colors of your concrete.

We suggest using the Clear grip traction additive if you are using Clear Shield as an outdoor concrete sealer. The traction additive gives the concrete sealer a more grip like texture without making your sealer rough.
We advise using the roller listed above (or a similar product) to apply the clear concrete sealer. We also advise applying two coats in overlapping patterns as opposed to applying them in straight lines. The concrete sealer will take around 2 hours to dry in warm weather with low humidity. Afterwards, you will want to allow the concrete sealer to cure for 24-48 hours before applying wax or allowing traffic.
You can also use a sprayer to apply the cement sealer using a roller to smooth out any spray marks or heavy areas.
Minimum application temperature for the concrete sealer is 45 F. The best temperature is between 50-90 F. The maximum humidity is 65 -70% and ideal humidity is 60% or less.
(For more sealing tips, check out our guide:
How to Apply Concrete Sealer
)
We can say with confidence that this is the best sealer for concrete on the market, made here in the USA, whether you are looking for professional concrete floor sealer or you are a hobbyist working on a home renovation project. If you are the latter and you have questions on concrete sealant, we are more than happy to help!