Mop On Style Concrete Floor Wax
$10.00 Flat Rate Shipping On All Orders
(FedEx Delivery / Lower 48 U.S. States Only)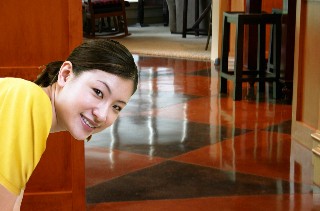 Top Shield

high traffic

mop on style floor wax

will not only

enhance

your stained concrete floors

appearance

with added depth and

luster

, it will also

protect

your concrete floors and

all floors

for that matter with a

hard to scuff

barrier, that takes the work out of waxing. No buffing required.
Easier - Greener
Top Shield

high traffic liquid floor wax is made with

high grade

wax resins and is classified

Industrial Grade

. Made in the U.S.A.
Mop On Style Concrete Floor Wax
About Our Concrete Floor Wax
One coat of this tough as nails concrete floor wax will last through months of heavy traffic. This concrete floor wax was originally designed for grocery and department stores.
When the concrete wax does start to dull or scuff, simply clean and re-apply a fresh coat of wax.
Apply 2 initial coats of wax to your floor and then single coats as needed for maintenance.
Covers up to 2000 sq.ft. per Gallon per Coat.
Our concrete wax can be used on any sealed surface.
While this is wax for concrete floors(specifically floor wax for stained concrete), it is great for All Types of floors, including concrete floors, wood, laminate, and tile.
Wax On Concrete Floors is Less Slippery than sealed concrete alone.
Our Concrete Floor Wax is Now

Available

in Both

Gloss Finish

and Matte

Finish

.
If you have any questions about how to wax a concrete floor, how to use the mop on wax in other situations, or more general questions about waxing a concrete floor, feel free to reach out. We are always happy to help!