Customer Testimonials and Reviews

---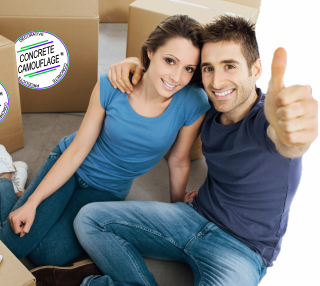 A Do It Yourself Enthusiast wrote:
I wanted to thank you so much for all your help and answering our questions. Our floor turned out better than we even dreamed of. It is so incredibly beautiful. We have told a lot of people about your company and how very helpful you are.
Again, thank you so much. Terrie
A

Do It Yourself Enthusiast

wrote:
I wanted to thank you again for your help and for responding quickly to my emails. We completed the project this weekend and I'm so pleased with the result. The splatters that I was so concerned about ended up not even being noticeable! The color was just what I wanted!
I also have to say that your website/resources was by far the most informative and helpful than any other resource I looked into.
A

Do It Yourself

Enthusiast

wrote:
Used: Saddle and Coffee mixed 1:1 and left unsealed.
Applied to pieces from old driveway. We were amazed and delighted by the results!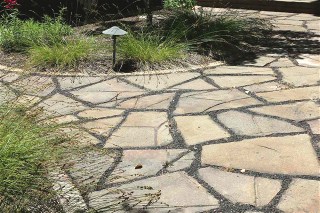 A

Do It Yourself

Enthusiast

wrote:
Used faded linen, island sand, mocha, and leather brown. I cut the pattern into the concrete, by hand, with an angle grinder after designing and drawing it out with a pencil and level. We used a hand paint brush to apply the acid stain to each block. Easy do-it-yourself project.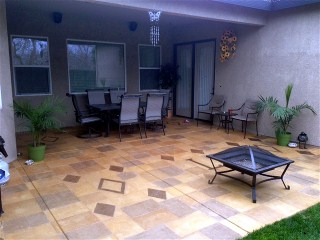 A

Do It Yourself

Enthusiast

wrote:
Prep was the hardest part. Love the results. It was worth the effort.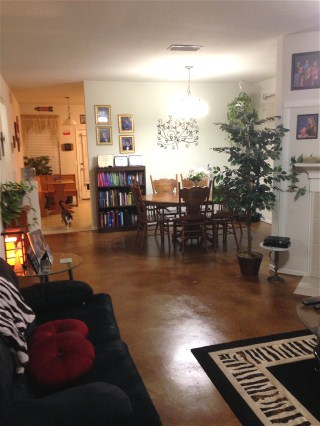 A

Do It Yourself

Enthusiast

wrote:
I want to say Thank you for your awesome products. My wife and I were looking into alternative flooring options for the basement. I found CC and showed her what was possible to do with the stain. We figured for the price that if it didn't turn out well we could still do something else. After finishing, We are more then pleased with how everything turned out! I have included two pictures from our basement project. I used Riverstone and LOTS of tape to make the tiles and 2 coats of stain for the darker border plus the sealer and wax. Thank you again for your products! They are amazing and easy to use to get professional looking results. I wish I had more concrete!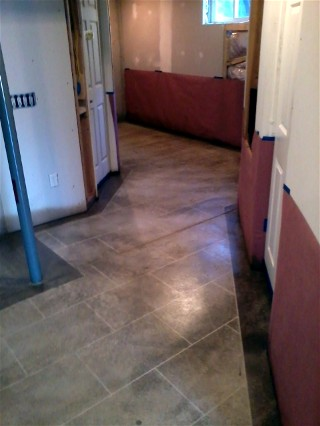 A Do It YourselfEnthusiast wrote:
Thanks to your effort we received our product Friday afternoon. Anxiously we applied the stain/sealer/wax. The results are breathtaking! We couldn't be happier! We are doing other projects that require concrete finishing and I assure you that you will be hearing from us. Thanks again for your assistance.
A

Do It Yourself

Enthusiast

wrote:
As promised, I'm attaching before and after shots of our dining room/living room project. We are pleased with the results, especially the dining room, where we put down a grid pattern of packing tape to create a tile-and-grout effect.
Thanks again for talking us through the project.
David and Saline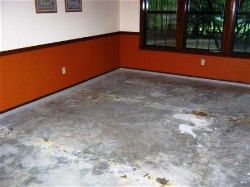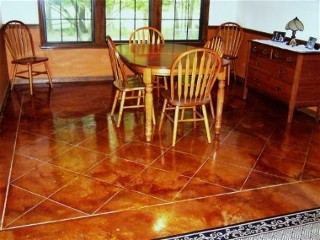 A

Do It Yourself Enthusiast

wrote:
I am a die-hard do it yourself and my neighbors were very impressed with the look of my recently camouflaged walkway using your product, which is so easy to use! I am thinking about doing concrete camouflaging as a side business to whomever is interested in having it done. I love concrete camouflaging!!!
A

Do It Yourself

Enthusiast

wrote:
Thank you for your help with our patio project.
Your website provided useful and accurate information about your products and services.
All the products arrived quickly, well packed and were very easy to apply.
Your email and telephone customer service helped us complete the project with confidence that it was going to turn out great-and it did.
Although we could have bought similar supplies locally, your products are definitely superior and were less cost, including freight.
Attached are photos of our newly stained and sealed patio.
My wife says thanks for the tee shirt. Now I don't have one.
I ran out of stain to complete the curbing so we are still not quite done.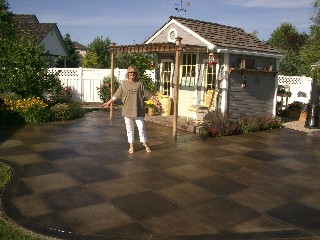 A

Do It Yourself

Enthusiast

wrote:
Your products worked great. People come into my house and cant believe that my floor is concrete, let alone that I did it myself! I am literally a walking advertisement for your website. Thank you for providing an on-line product that lives up to its promises (and more). It was more than affordable to stain all of the floors in my entire house for less than $550.00 and it looks like I spent thousands. I was skeptical at first but I figured if it didn't turn out well, I could just cover it with wood flooring and I would have only been out $550 for trying. It was well worth the gamble. It looks amazing.
A

Do It Yourself

Enthusiast

wrote:
Hello,
I recently used your driveway stain. I'm very happy with the results....................
In the attached pictures you will see that the design was pressed into the wet cement by a hand held device. The project was a family affair, my two sons and I poured 26 yards of cement, we leveled the cement, applied the design, and then applied the stain 30 days later.
Thanks for your help..................Jim R.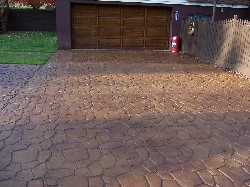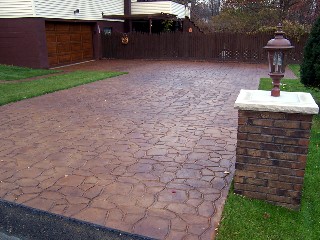 A

Do It Yourself Enthusiast

wrote:
Just wanted to say Thank You for the outstanding service and results. I can't remember the name of the gentleman that helped me get my order before Memorial Weekend...tell him Thanks ! It's hard to find that kind of help in NJ.
All of my friends are shocked how easy it was and most importantly, my wife is very happy.

Take Care, Luke

A

Professional Contractor

wrote:
.....I'm attaching a couple of pictures of a job we did last week using your stain (Riverstone). I was very impressed and have ordered a sample pack to start doing color samples with....... I look forward to doing more business with you in the future.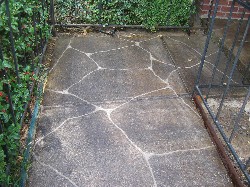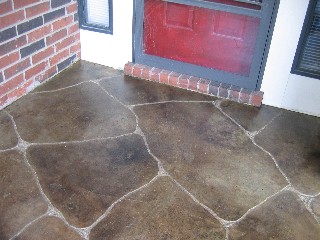 More Testimonials are available on our Facebook page, and they all say pretty much the same thing. If you would like your testimonial posted on one of the next rotations, please
contact customer service
or visit the Gallery where you can upload your pictures.
Otherwise, be rest assured, that with

Concrete Camouflage

products, you can count on

Artist Grade Quality

along with

Friendly Customer Service

and

Knowledgeable Tech Help.
Thank You to all who use Concrete Camouflage products and to all who have written in.