How to Choose the Best Concrete Stain: Fiesta, Pro Etch or Artist Grade?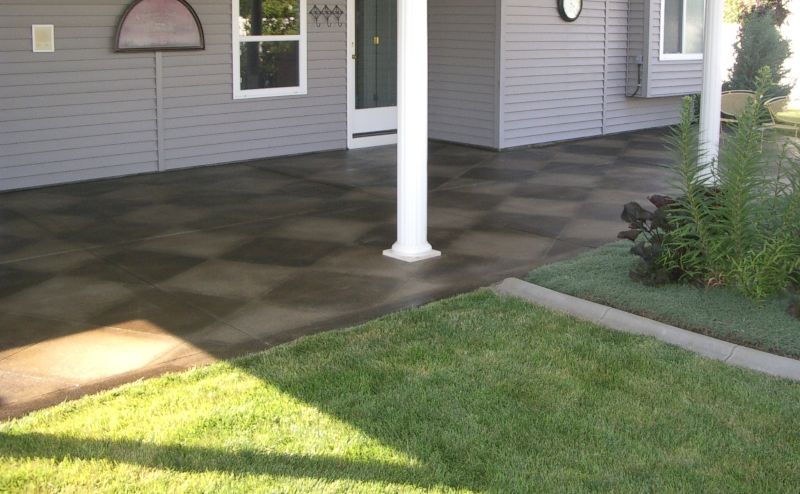 So you've done your research. Maybe you've read our guide on acid staining, watched some of our tutorial videos, and even looked over project tips outlined in our blog articles. Now, you've finally decided you are ready to give acid staining a go. But one important question remains:

Which type of concrete stain should I use?

This is one of the most common questions we receive from our DIY customers. We've been in business since 1995, so we know a thing or two when it comes to choosing the right acid stain. At Concrete Camouflage, we offer three categories of acid stain: Fiesta, Pro-Etch, and Artist Grade. Here's an overview of each product, and information on how to choose the best option for your project.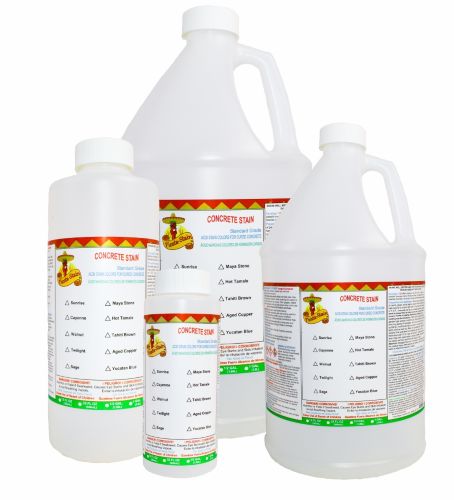 The Fiesta Stain is the least expensive. Think of it like flying economy class. It will get you to your destination, but doesn't come with all the fancy features of the other options.

The Fiesta Stain is designed for individuals who are on a very tight budget. One gallon of product costs $45.95 plus shipping, and comes in 10 different colors. It is a good choice for beginners who want to experiment with acid staining, and who don't mind having to apply multiple coats to achieve the desired look.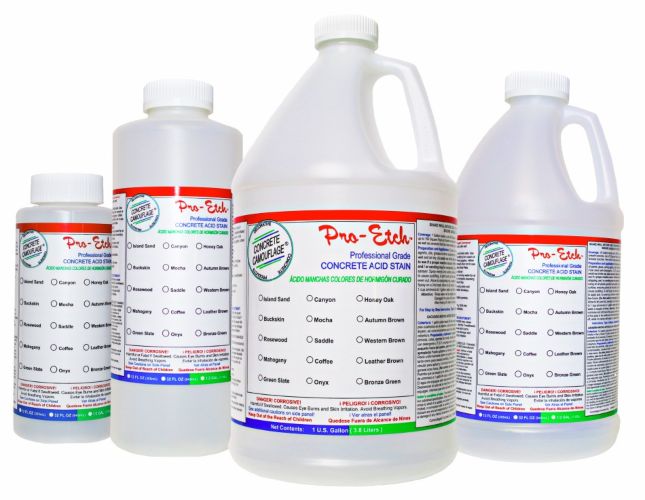 The Pro-Etch Stain is the equivalent of business class. One gallon costs $51.95 plus shipping. It comes in 15 different colors. A gallon of Pro-Etch solution will cover 200 square feet of smooth concrete surface.

It requires a two coat process, which some individuals prefer. The two coat process is more of the old school way of acid staining. The advantage of applying two coats is it gives you more control over darkness, tone, and highlighting effect. You can use different color combinations and mottling without the risk of over darkening. However, this extra step requires more time and attention to detail. The more coats you need to apply, the more potential there is for human error.

In addition, Pro-Etch can help richen, darken, or touch up floors or countertops that were previously stained with Artist Grade.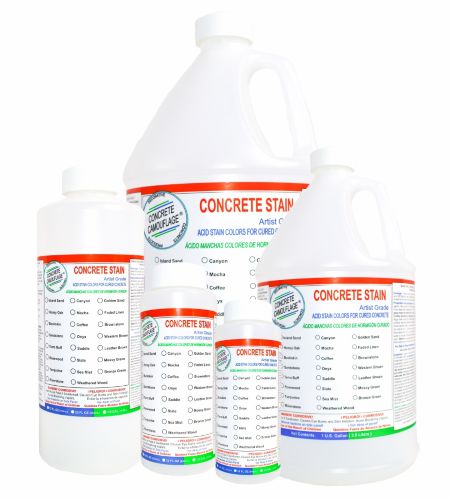 The Artist Grade Stain is akin to flying first class. It's designed for DIYers and contractors who are looking for the highest quality professional results. It is the same price as Pro-Etch. One gallon of Artist Grade costs $96.95 plus shipping. It comes in 23 different colors.

While Artist Grade is the most expensive, don't let the sticker price fool you. A gallon of product will cover approximately 400 square feet of concrete surface. Unlike the other acid stain options, it requires only one coat of application. This means you get more bang for your buck. Shipping is also less expensive because you need less stain to get the job done. We pass along all that savings back to you.
There's no hiding it; Artist Grade is our favorite and our best rated concrete stain. It's the best of the best. But don't take our word for it. Here's a concrete stain review with what one of our recent customers had to say:
We just finished our basement floor. Used the western brown artist grade stain. Absolutely love it! Highly recommend Concrete Camouflage! Such a painless process! And such helpful staff!"
Steve Schmidt
Artist Grade is our most durable and popular concrete stain - and for good reason - people achieve amazing results with it on their concrete floors and countertops. However, Fiesta and Pro-Etch are good alternatives if you are on a tight budget or looking to touch up an old project.