Finding a Great Handyman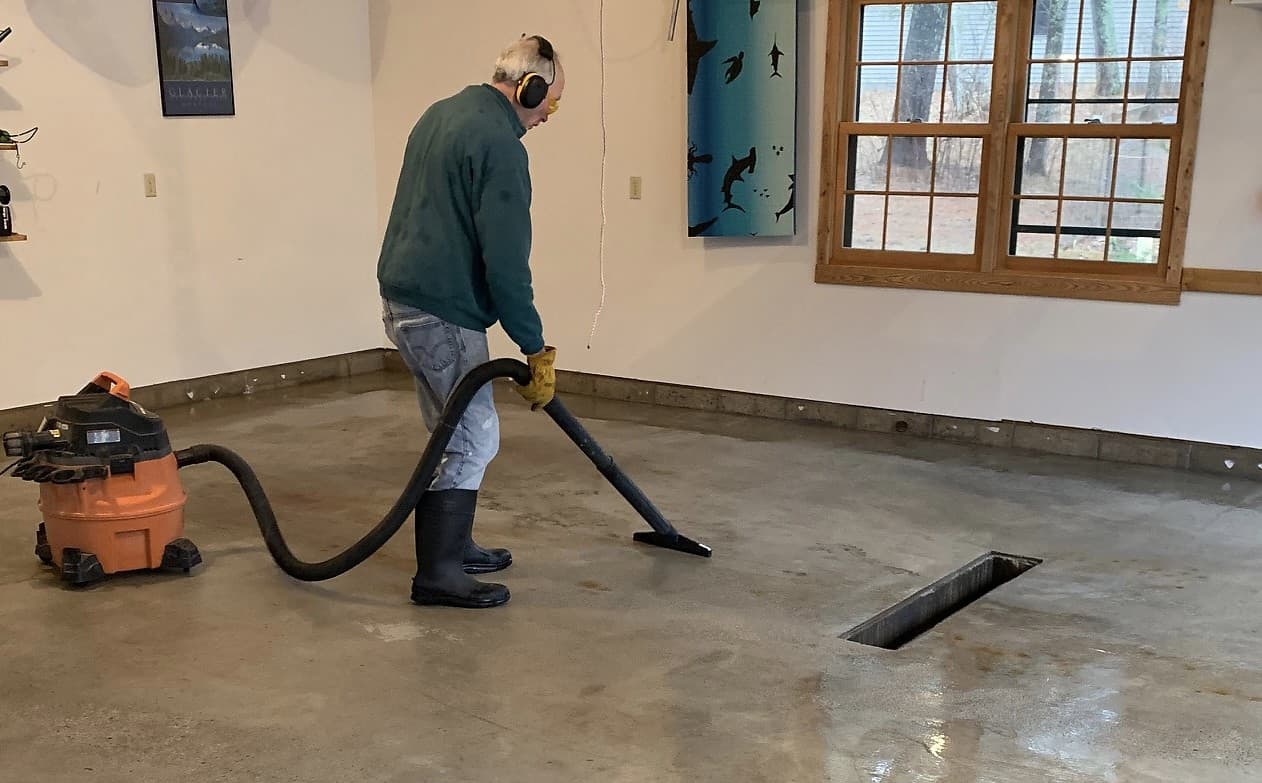 Tips on Finding a Great Handyman
With the free How To videos and user friendly products at Concrete Camouflage, achieving great results when staining concrete, sealing concrete and waxing floors is simple to do. However, not everyone wants to DIY. Additionally, with the bustling popularity of stained concrete, finding a staining contractor that has time to fit you into their schedule, and/or at a price you can afford, can sometimes be challenging. Especially for smaller projects. If you find yourself unable to, or simply not wanting to diy, and are having trouble finding or affording a professional concrete staining contractor, then here's some tips for you.
Hiring a quality oriented handyman is an excellent way to get your concrete staining done, as well as having various small projects, home repairs and maintenance tasks done. However, finding the right handyman can also sometimes be a challenge. With so many options to choose from, it's easy to get confused and select the wrong person for the job. In this post from Concrete Camouflage, we'll provide you with some tips on how to find a great handyman.
Ask for Referrals
Of course you can look through your local newspaper or phone book. Though one of the best ways to find a good handyman is to ask for referrals from family, friends or neighbors that have had work done at their homes. Their experiences with different handymen can be a valuable source of information. Ask them about the quality of the work done, the handyman's professionalism, how they conducted the business/money side of the equation and punctuality.
Doing this not only gives you access to known handymen but also helps you narrow down your search quickly. You can also ask around at your local hardware stores, lumber yards or real estate agents if they have any handyman referrals.
Ask for References
Many contractors and handymen will not be so keen on sharing past customer references. Simply because they don't want to upset or inconvenience anyone by giving out their contact info. That's understandable and fair enough. But it doesn't hurt to ask and observe their reaction. Is it one out of genuine concern for their customer's privacy, or do they come off as a bit shady or inexperienced?
Another thing to ask for, is to see pictures of past projects. Almost everyone is carrying around a smart phone these days, and most people will proudly take pictures of their accomplishments. If so, they'll likely be all too happy to share the pictures of their work while regaling you with stories of past projects.
Get Estimates in Writing
When choosing a handyman, don't settle for the first one you come across. It's always a good idea to shop around and get estimates in writing from a few handymen before making a final decision. This allows you to get a sense of what the work will cost, as well as the level of professionalism, quality of work and experience of the handymen. You can compare the estimates and narrow them down to specific ones that best meet your needs. Beware of estimates that are too low because they could end up being more expensive in the long run.
Also, be sure they completely understand the task at hand they are being asked to do. Add-ons and change orders because you change something later or they didn't fully understand the project will no doubt come at a greater cost in the end. Both you and your handyman needs to know upfront what is included in the quote.
Discuss Payment Options
Before hiring your chosen handyman, discuss payment options to clarify any questions or misunderstandings. It's completely understandable and common practice for your handyman to want a deposit first, followed by installments as the job progresses. However, avoid working with handymen who demand all or too much of their fee upfront. This way, you can be confident that the job will be completed satisfactorily, and you won't lose your money.
A good rule of thumb for maximum amounts is to pay no more than 50% up front, and not until the work is beginning. They can collect as much as an additional 25% as the project proceeds, but the final - at least 25% -should be held until the project is satisfactorily complete.
Know What's Entailed
While concrete staining has exploded in popularity, it's still a new concept to many. So it would be no surprise to find out the handymen in your area haven't done it before. But that's okay. Because you'll have them go through the How To pages, watch the videos on each step, and understand they can call or email Concrete Camouflage with any questions they may have. Along with that, you should also go through the videos yourself, so you can watch over your handyman as they move from step to step, to ensure they're doing a good and correct job.
With that being said though, you don't want to let just anyone off the street do your project. Look for someone who can provide more than just tinkering with leaky faucets or squeaky doors. In other words, they need to bring more to the table than just good intentions. They need to be a mechanically inclined and skilled person with quality of work in mind. A great handyman / home repair professional will usually have experience in many areas. Including painting, flooring, woodwork, electrical, plumbing, and other maintenance tasks. Having experience working with concrete helps a lot too.
Get creative when choosing your go-to person: if possible, seek out those offering a full range of services tailored to all your renovating needs, which may come in handy later.
A final thought is to be sure it's understood who supplies what. Will you be purchasing the products and the handyman is supplying the labor only, or will they also be supplying the products to be used, or some hybrid arrangement?
Verify Licenses and Certifications
An important step in finding a great handyman is to check if they have the necessary licenses and certifications to operate in your area. Ask the handyman if they have a valid license and if they have any certifications from reputable organizations. You can also verify this information by checking your state's licensing board. A handyman with proper licensing and certification will help ensure that your work is done satisfactorily.
Of course it's only fair to mention that you may find a diy enthusiast who isn't in the business, but would enjoy helping you with your project. And they'd likely be good at it if they had the experience and confidence. Be aware though, that unless you know them personally, without hiring a licensed person, you could be wading into unknown and potentially unsafe waters.
Verify Insurance Coverage
Before hiring your chosen handyman, verify if they have adequate insurance coverage such as liability, worker's compensation, and property damage coverage. Ensuring they have proper insurance helps you protect yourself from any unforeseen damages, accidents, or injuries that might unexpectedly occur during the job. Without it, you could be held liable, and your home insurance provider will be less than happy with you. Besides, a handyman with proper insurance coverage demonstrates accountability and instills confidence that they are professional.
Consider Keeping All Project-Related Paperwork Digitized
You should certainly hang on to the physical copies of all project-related paperwork, but digitizing is the way of the future, as it reduces clutter and makes all documents accessible in one place. PDFs are good, and secure since they're difficult to alter or delete. Additionally, PDF readers are readily available on about any device.
In Conclusion
If you do in fact decide to skip the diy route, finding a great handyman requires some effort on your part, but it's worth it in the end. Verify their licenses and certifications, ask for referrals, look at their portfolios, shop around, get estimates in writing, keep project-related paperwork digitized as PDFs, verify their insurance coverage and educate yourself on the project being done so you can keep an informed eye on them as they work. By following these tips, you can find a professional, reliable, and trustworthy handyman who can achieve great results staining your concrete, as well as handle all your home repairs and maintenance tasks.