Pro-Etch
$10.00 Flat Rate Shipping On All Orders
(FedEx Delivery / Lower 48 U.S. States Only)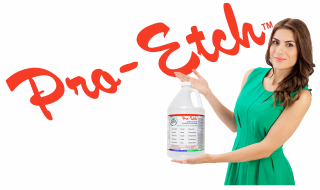 Covers

up to

200 Sq.Ft.

per Gallon
Covers

up to

400 Sq.Ft

per Gallon
when applied as

1 Coat

for a lighter version of the color and/or highlighting
We took some of our Artist Grade colors and specially reformulated them for a professional grade 2 coat stain, as well as adding a few colors to Pro-Etch of its own. Why you may ask? Well.....
Many customers prefer a 2 coat process rather than a 1 coat. It allows you to spray on and then brush the first coat, followed up with then spraying only the second coat. That allows you to brush that first coat in. Then spraying only the second coat helps to cover over and camouflage any potential brush marks. (Many Contractors do this, especially old school. Note: While many contractors have stopped brushing the first coat, because of potential brush marks, most contractors still insist on spraying on 2 coats of stain.)
A two coat process of acid staining also allows you to use different colors for even more color variations, mottling and marbling without over darkening. ex: Using a lighter color first and then a darker color over that.
Another great use for Pro-Etch is using it with the Artist Grade to richen, highlight, darken or color tone shift.
It's also great for touching up or enhancing previously acid stained concrete, (once any sealer has been removed.)
Now, You too can achieve Professional results, without the hassle of mixing, using Pro-Etch Concrete Acid Stains.
While Pro-Etch is a great Professional Grade acid stain, it is not recommended for concrete that is rather old or rough, or has been acid washed or acid etched. For those slabs we recommend Artist Grade stains.